We are situated to the west of the village of Askrigg, just inside the 30mph zone, opposite the school and tennis courts. The surgery is a former railway station and set back from the road – see the green signs at the entrance.
We are on the left hand side as you leave the village or the right hand side as you enter the 30mph limit.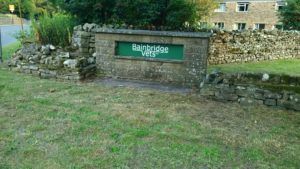 Got Sat Nav?
Postcode for your SatNav – DL8 3BJ, it's fairly accurate but there's no house number so it will get you within a few hundred meters.
Please note: although our address is 'Leyburn' the surgery is located 13 miles east on the A684, Leyburn is our postal town. The name 'Bainbridge Vets Ltd' comes from when we were in the next village – I realise this is mildly confusing!!!