DIY AI & Foot Trimming
Next AI course now full. We have a few names on the provisional list. Any further interest please let reception know. We can add you to the list.
We are looking at running some training courses as soon as we have sufficient interest. We have a couple for foot trimming course (aim for 5) with the hope of running a course soon.
If you are interested in either of these, please let the office know.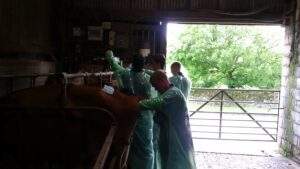 ———————————————————————————————————————————————————————–
In conjunction with Dale and Vale Vets we run regular practical and theoretical training courses throughout the year.
We are into the swing of our Winter Dairy Discussion Group meetings where we intend to have meetings on farm with a guest speaker. The idea being that we facilitate discussion between participants rather than bore you with lectures.
As an on-going thing we will offer both AI and Practical Foot Trimming courses on request (please log your interest with the office and once we have enough people we will run the course).
If there is a specific course topic you would like us to cover then please let us know and we will do our best to accommodate you. If YOU want the course chances are someone else does.