Bainbridge Vets Ltd provide a comprehensive service for our dairy and beef farmers. We can offer you the traditional 'fire brigade' approach to rush in and fix a problem, but we would much rather work with you in a structured way to increase the health of your herd. All our dairy farms have a herd health plan but that is more of a tick box exercise, we are looking to do more proactive health planning with our clients. The biggest barrier to this is the perception that a health plan is a dusty folder used to keep the farm assurance man happy. This is NOT the case. By working together to solve problems we can make a real difference to your productivity, general herd health and your bottom line profit!
AI Cover Services
If your usual person is away and you need a cow serving we can offer the service just as cheap as Genus and we can be booked in a more convenient time window!
We also have expertise in serving some difficult cows that you may be struggling with. We have a few tricks at our disposal including epidural anaesthetics!
Bull Fertility Testing
We have a bull electroejaculator, that allows us to offer a comprehensive bull fertility testing service. We come out to the farm and need the bull in a suitable crush, somewhere with shelter and electricity for us to set up the microscope. The bull undergoes a detailed physical examination, including examination of the internal and external reproductive organs. A sample of semen is then collected and examined under the microscope. Some special stains are done to allow us to examine the structure of the sperm. The cost of the examination includes a standardised bull testing certificate produced by the British Cattle Veterinary Association (BCVA), the idea being that all bulls are tested to the same standards throughout the country.
We have recently purchased an artificial vagina for bull use – this allows us to collect natural semen samples from a bull, but does require a cow in heat at the time. The sample may be more representative and is required if you were wanting to freeze semen.
There are three major times when we get asked to test bulls: if a problem is suspected; before the breeding period and; after a purchase. We would always recommend that a newly purchased bull be tested so that if there is a problem the vendor can be quickly contacted. We have experience of testing bulls for venereal disease (campylobacter) that can cause untold fertility problems. The testing is relatively straightforward and recommended whenever your purchase a bull that has been used elsewhere.
Calf Health
Calf health is an area that can often be neglected. We can sit down with you and come up with a plan that will maximise your calf health. Colostrum underpins all calf health and our starting point for investigation would be to ensure that the calves have received enough colostrum. With black and white cows producing more milk at the first milking the antibody concentration reduces – this means they need more volume now than they ever had. Many producers give 4 litres to all calves by stomach tube. From our experience of testing cows leaving the calf with the mother is a very variable (and often unsatisfactory) way of delivering colostrum. We can take blood and test it at the surgery and report results the same day.
Calf scour is another problem that seems on the increase. We have kits available at the practice that will let us test a few samples and identify the causal agent. Many of the conditions require specific treatments, most cases are not caused by bacteria and people waste a lot of antibiotic in calf scour. There are various new products available for treating scouring calves and a suitable protocol must be followed. Too many producers withdraw milk for too long and starve the calf of nutrients and increase the time taken for the gut to heel. Really sick calves may require hospitalisation for fluid therapy (NEVER STOMACH TUBE A CALF THAT CANNOT STAND). Particularly in beef herds specific vaccines can help protect against scour disease, another thing to plan well in advance.
Pneumonia is the other common disease we see in calves, and adequate colostrum is the best means of prevention. Adequate ventilation is vital. Vaccination plays a role but the other factors must not be neglected. There is a great number of vaccines and the plan needs tailoring to your specific circumstances, different vaccines protect different aged calves from different diseases for differing time periods!
Disease Surveillance
We work with a number of diagnostic laboratories and send samples regularly. A number of drug company schemes exist that offer free of charge or reduced price lab fees to encourage us to test for specific conditions (BVD, Lepto, IBR). We will often take a few extra samples at a convenient time when we are on the farm (such as a PD session or TB testing). The majority of cattle farms took part in the Stamp it out BVD initiative, and we hope to keep as many of you testing, and certified BVD free as possible!
Embryo Transfer
We have the training and equipment to implant embryos in cows. Initially the plan is to use it as a method for getting some cows in calf that are struggling to hold from repeated AI. The cost is very reasonable and we will even work on a 'no calf, no fee' basis!
We have Angus crossed HF embryos in stock. Speak to Michael for more information.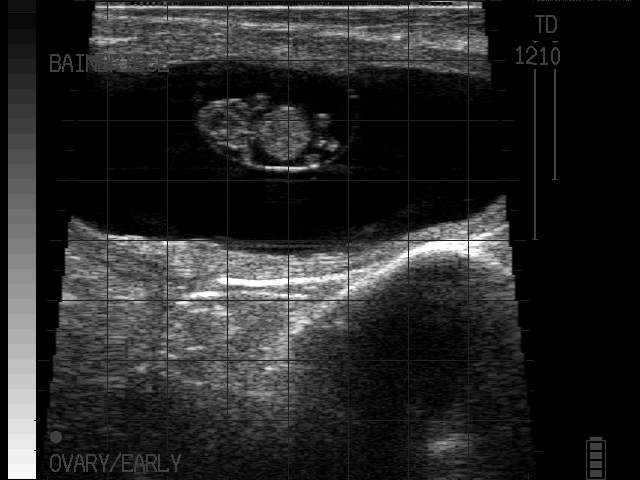 Facilities
We have an ultrasound scanner for each of the vets in the practice to use. Our cars are fully equipped for all the common conditions we are likely to encounter, from major surgical interventions (caesareans, abdominal surgery, bloat) to sick dehydrated animals (Agger's pumps) to generally ill animals. We have a good selection of equipment for calving cows, including cutting up dead calves when necessary. We are always looking at new and exciting pieces of equipment that will let us do things in a better way.
We have just invested in a new piece of equipment to help untwist uterine torsions in cattle (GYN-Stick). We are one of the first practices in the country to have this new piece of equipment and we are carrying them routinely in the vet's cars.
Fertility
One of the 'big three' costs on British dairy farms. It is an area that by keeping on top of things we can get more cows in calf sooner. Having more cows in early lactation puts more milk in your tank, and that is fundamentally what you are paid on!
We have experience dealing will all kinds of herds – there are safe interventions even in herds that run bulls. We can scan cows from 28days in calf, but prefer them to be 5 weeks, as there is less chance of the embryo being lost. To encourage a regular fertility visit (at least once a month – we offer a significantly reduced visit fee)
We ought to be routinely seeing cows that are high risk:
Had twins
Assisted calvings
Had milk fever
Held cleansing
If any abnormal smell or discharge has been noted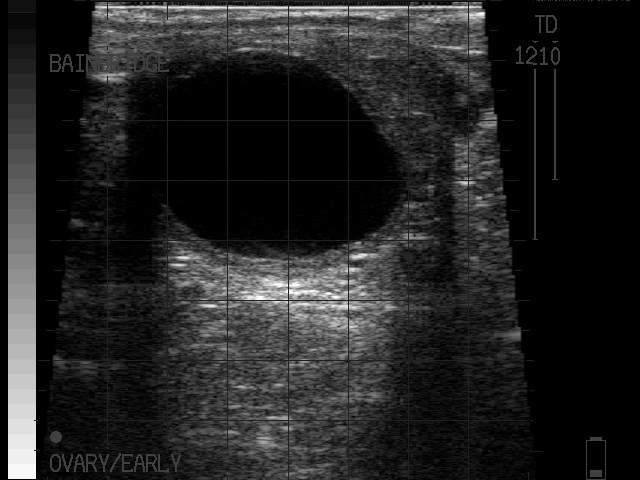 Laboratory Facilities
We have a blood analyser at the surgery that will let us measure calcium, magnesium and phosphorus the same day in cows that have failed to respond to treatment for milk fever or staggers. The machine can also be used to run more comprehensive bloods to measure liver and kidney health. If we need to run other tests (such as mineral profiles) we send the samples direct to ta private laboratory who report very good quality results quickly. We can measure ketone levels in cows and report results quickly.
We are able to run faecal egg counts at the surgery and as long as we have the sample by lunch time the result will be available same day. The same test will let us look for coccidiosis. If we are looking specifically for liver fluke or lungworm we can now test for these at the surgery – lungworm has to incubate overnight.
In calves with scour we have some rapid diagnostic kits that let us look for the most common causes of scour in unweaned calves and lambs (rotavirus, coronavirus, cryptosporidium and E.coli). The results will be available after 10 whole minutes! In older calves we will also test them for cocci and worms, also at the practice. Calves can be tested for appropriate levels of antibodies from colostrum in house. We can get on top of scour problems very quickly.
We have arrangements with three specialist labs if we want to look for bacteria. Milk samples are sent down to the Vale Vet Lab in Devon as they are fast and very cost effective for standard bacteriology. If the cow has already had treatment we can send the sample off to NML for a PCR test – this looks for fragments of DNA and will let us test samples with antibiotics in, the result is usually available next day (cf 2-4 days for a standard culture). Other samples for bacteriology are sent to the a private lab.
Lameness and Lameness Scoring
The third of three big costs in dairy farming and a huge source of increased culling. This is an area that can take some time to get under control. A lot of the improvements in lameness can be expensive (improved facilities, cow tracks, foot baths etc) and discussion with ourselves will let us come up with a joint plan that should be good value for money. It would be a waste of money putting in a fancy new foot bath if your problem was solar ulcers.
In conjunction with Dale and Vale Vets we offer regular, practical foot trimming courses. Please contact the office to reserve your place. Once we have enough people interested we will run the course.
Michael is an accredited 'mobility mentor'. It means that we can now sign clients up to the Healthy Feet project and reduce the cases of lameness on your farm using a simple but effective framework.
It costs nothing to join the project, and you receive your 'tool-kit' (an actual tool box) full of useful information. Then by working with us we can create a plan tailored specifically to your farm. We can work it either on a monthly fixed cost or pay for time as you use us.
Speak to Michael for further information.
Mastitis
Is a disease that the more information we have, the better position we are in to control things. We would encourage all our clients to undertake milk recording and give as much other information as possible to the milk recorder. Having a cell count history lets us deal with issues before they become a problem. Most cows that end up at the top of the list (in the millions) started creeping up with a cell count 3-500,000 cells/ml. Early treatment can often cure these animals. Having the information on who your chronic cows are let you pay particular attention to the cluster after milking – helping you to protect the next cow.
We have experience of parlour visits and coming out to see you at milking time can give a lot of useful information as to what is going wrong (in addition to cells counts and samples to find out what the cause of the problem was). A recent example on a farm where his average cell count was over 400,000 cells/ml. He took some individual cell counts and we did some bacteriology and the results didn't show many nasty contagious bacteria. A parlour visit identified a number of faults that were put right. Having done so (and improved milking routine) we have got the cell count back down into the premium band.
Michael is a trained deliverer of the DairyCo Mastitis Control Plan. This is a structured questionnaire and farm visit to establish the masitis risks on the farm and to apply control measure where they will give the best returns. This service is available to clients and non clients.
Milk Recording and Health Monitoring
Knowledge is power! In this day and age everyone milking cows should be milk recording – it is looking like it is something the dairies may well force upon you if you don't. It is a very powerful tool that allows us to proactively tackle cell count cows before they become a problem. There are other useful features as an aside – we can monitor the nutrition status of the herd by looking at milk fat and protein and even analyse the herds fertility. If you milk record please give the milk recorder as much information as you can (services, PD's, mastitis and lameness treatments etc).
Export Services
All our vets are qualified OVs (Official Veterinarians) on the appropriate panels to export the following:
Export of farm animals
Export of animal products (e.g. hides, and skins) and materials (e.g. straw)
Export of semen and embryos
Export of cattle, sheep and pigs destined for fattening, production or slaughter to other EU member states.
Export of small animals
Further information can be obtained from the following web link:
https://www.gov.uk/guidance/export-live-animals-special-rules
Or speak to one of the vets.