You may have read the recent article in British Dairying about a keyhole (laparoscopic) surgery technique for the correction of left displaced abomasums (twisted stomachs).
This is a procedure that we offer here at Bainbridge Vets Ltd, Michael was one of the first vets in the country to gain experience in the technique back in 2010 and has completed many dozens of successful procedures.
The advantages are:
Lower cost than conventional surgery
Less stress on the cow and no need to roll the cow onto its back with associated risks
Single assistant needed – just to hold and pass
Faster recovery
Ability to visualise many abdominal organs and allows other problems to be identified (eg infection like peritonitis or abomasal ulcers)
A small camera is placed on the left hand side behind the last rib. A second instrument port is created between the last two ribs
A toggle with a double length of nylon line is placed into the abomasum and the abomasum deflated.
A special needle inside a guide tube is used to safely take the needle into the cows abdomen. The position of the tube can be felt through the abdominal wall – to ensure the needle comes through at the correct location.
The guided needle is passed from the abdomen to the outside, and the two strings are tied around a bandage – holding the abomasum in the correct location.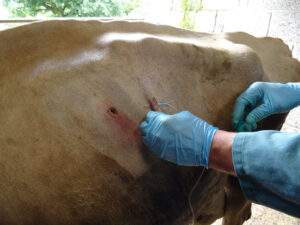 The two small skin incisions are sutured closed.
The cow after surgery with local application of wound spray.
The surgery takes around 20 minutes in a co-operative cow and usually doesn't require any sedation or antibiotics. The local anaesthetic has no milk or meat withhold and so you can continue selling milk from the cow.
If you have any questions, speak to Michael about the procedure.